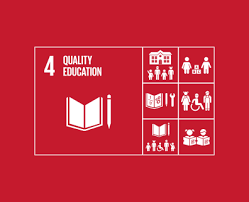 SDG 4: Ensure Inclusive and Equitable Quality Education and Promote Lifelong Learning Opportunities for All.
This is one that sits nicely with EISMAT; the SDG 4.  It is clear that what we offer fulfills this goal.  Safety and health is not specific to a certain set of educational backgrounds.  From S4 people can enroll and develop their dreams and aspirations. Our TCOSH programme [Technical Certificate in Occupational Safety and Health] is there and graduates from it have secured positions in the oil and gas sector and aviation.
Often people leave school for different reasons, but later in life come back to formal education.  This however, does not mean that they have not been learning.  Lifelong learning is something that many education centres in Uganda do not promote.  Always wanting the usual, well the usual is often not what is right for a person or country.
Mature people can come back into tertiary level education and do.
Lifelong learning is the "ongoing, voluntary, and self-motivated" pursuit of knowledge for either personal or professional reasons. Therefore, it not only enhances social inclusion, active citizenship, and personal development, but also self-sustainability, as well as competitiveness and employability.
Let us move down that highway to an all inclusive education system that promotes the development of a human being.
On another note, let us also imagine education centres following good school safety, health and environment policies.  So many children at school face bullying and harassment; some teachers are in this same position. Is it not something that in the 21st Century, we should be stopping?
Schools right from Kindergarten to the tertiary level are not exempt from following the laws of the land.  They too must comply with the Occupational Safety and Health Act 2006 and that means that all schools with a minimum of 20 staff must have at least one Safety and Health Officer.  Even with 2 staff as in many countries one needs to be trained in safety and health.  Interesting that while there are many youth unemployed or underemployed, organisations have no Safety and Health Officers.
Where is the monitoring of legal regulations?  As parents we want the best for our children, but are often unable to influence education providers to have what is a mandatory regulation. Even if we know what should be there!
This is why Education, and Safety, Health and Environment have there place in the SDG's.
To achieve this Uganda needs Safety, Health and Environment. Can you be instrumental in making this happen, if yes contact EISMAT at
info@eismat.ac.ug/ 0705 336 066.